IGP APPLICATION PROCESS

The IGP Applications for Academic Year 2024-2025 are now open!
The UPCA Integrated Graduate Program (UPCA IGP) executes a holistic examination of all applicants and conducts interviews to screen candidates, and upholds and promotes the College of Architecture's Standards of excellence, integrity and distinction. The application process will be very selective. You will be rated against your applicant cohort in terms of grade requirements, achievements, work experiences, research interests, and other merits to your admission to the IGP. The general objective of the UPCA IGP is to promote the development and application of excellence in the designed and built environment through teaching, research, and extension. Successful pursuit of the objective is founded on the collective philosophy of the UPCA IGP Community.
Student membership in the program is a privilege conditioned on academic and ethical standards. All students share in the responsibility to maintain an environment conducive to intellectual freedom and the pursuit of knowledge.
Important Dates
30 November 2023 – 23 February 2024
Submission of Applications
01 April 2024
Release of Shortlisted Applicants
14-17 May 2024
Interview & Evaluation Period
10 June 2024
Release of Accepted IGP Applicants for AY 2023-2024
APPLICATION PROCESS AND TIMELINE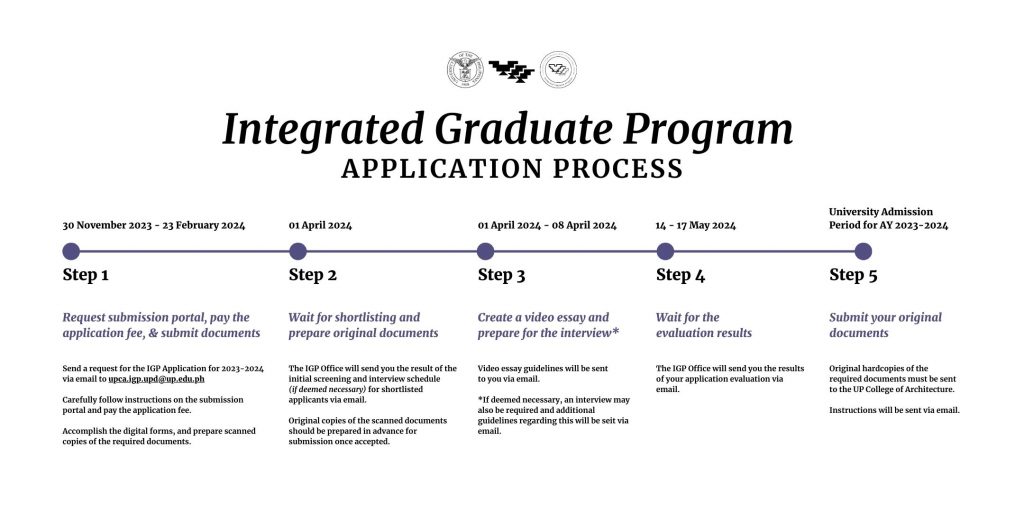 APPLICATION FORMS
The following forms are fillable. There is no need to print them. Only the original copy of the documentary requirements would be submitted in physical form during admission period.
A. Application Packet
The Application Packet shall be the primary form for the application. Please ensure that you have gone through all the information on the packet before accomplishing any field. The Packet contains following documents:
1. Application Guidelines – IGP Form B1.1 and B2.1
2. Personal Information Sheet and General Timeline – IGP Form B2.2, B3.1 and B3.2
3. Privacy Notice for Applicants – IGP Form B1.2
Read and follow further instructions in the Application Packet.
Submission format via Google Forms requested from the IGP email: Program_Surname(space)Given and Middle Name initials (e.g. PhDDBE_Dela Cruz AB)
B. Online Recommendation Form
The Academic Recommendation Form (IGP Form B4) has now been replaced by the Online Recommendation Form (IGP Form B4.1). Forward the link to this recommendation form to your recommenders and ensure that these will be accomplished in your absence.
C. Essay Form
Follow the instructions provided in the Application Packet. Please note that you may directly encode your essay to the IGP Form B5 file above.
Submission format via email: Essay_Program_Surname(space)Given and Middle Name Initials (e.g. Essay_MTLA_DelaCruz AB)
D. Declaration of Undertaking
This form shall be submitted along with the application forms and
scanned copy of documentary requirements.
E. IGP Transmittal Form for Submitted Application Requirements
Include the IGP Transmittal Form when submitting your original documents physically.