Master of Arts in Architecture Studies (MAAS)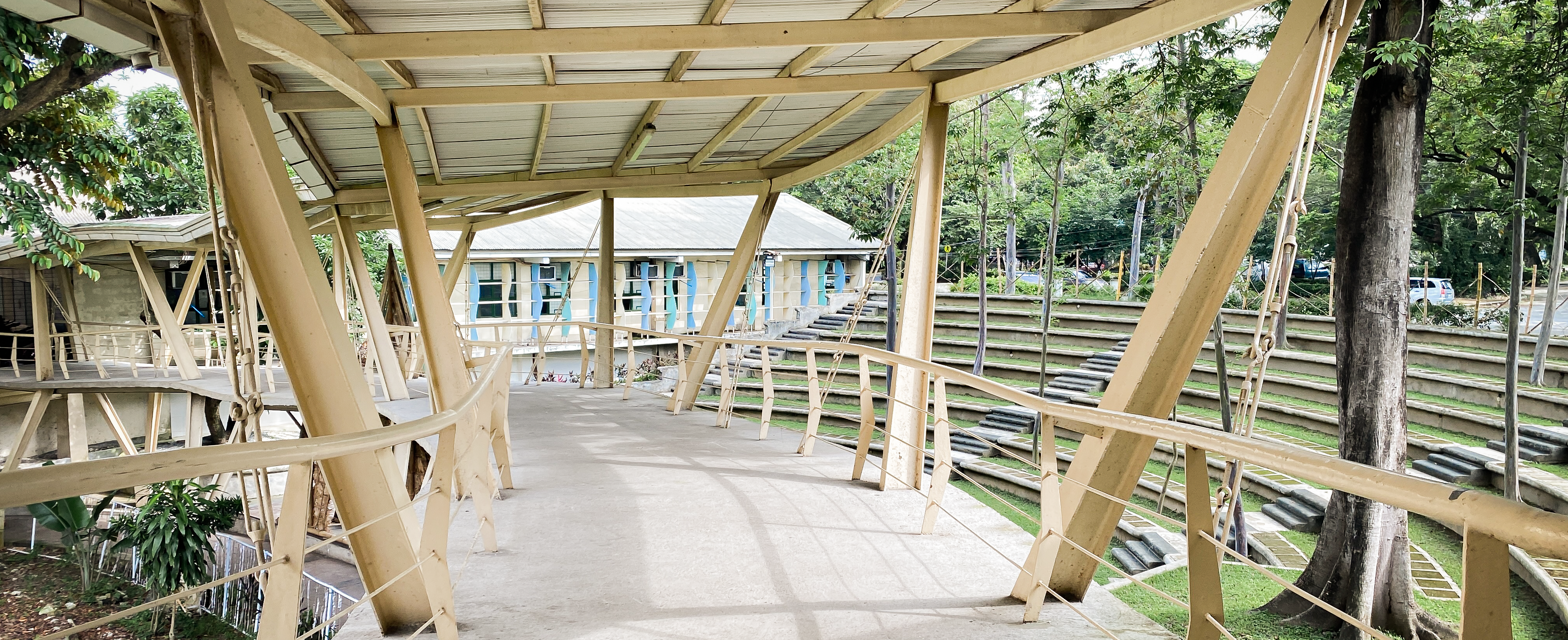 The Master of Arts in Architecture Studies (MAAS) provides an academic environment for discussion, planning and implementation of values and problems of Architecture where there is representation of the relevant expertise domains.
The MAAS program's intended outcome is a cognitive, evaluative and motivational force instilled in its students refined and committed through interaction about Architecture. Through multi-disciplinary research, the graduates integrate a deepened understanding of Architecture to their backgrounds to find a role in practice and employment as researchers, policy makers, teachers, social workers, exhibition consultants, facilities and human resources personnel in private enterprises, non-government agencies and government units.
A non-thesis two-year program designed for non-B.S. Architecture degree holders, who do not intend to take the Architecture licensure exam to enroll and immerse in spatial theories, concepts and strategies.

Eligibility and Admission Requirements
The MAAS Program is open to holders of any undergraduate degree other than Bachelor of Science in Architecture or its equivalent. Applicants must satisfy the requirements set by the University for admission. Additional requirements may be prescribed by the UPCA. Applicants are encouraged to go on a full-time program.
General Requirements
The minimum requirements for admission into the UPCA IGP are the following:
• high intellectual capacity;
• language proficiency; and
• submission/satisfaction of other program specific requirements.
Proof of English and/or Filipino proficiency shall be required of students whose native language is not English or Filipino, except those who graduated from institutions where the medium of instruction is English or Filipino. For English proficiency, a score of at least 500 in the paper-based, or at least 173 in the computer-based, or at least 61 in the internet-based (iBT) forms of the Test of English as a Foreign Language (TOEFL) or at least a score of 5.5 in the International English Language Testing System (IELTS) or a certification from a duly authorized unit of the University shall be required.
Foreign student applicants shall conform to other requirements for study in the Philippines based on University rules.
College-level Requirements
Each applicant shall further submit the following college-level requirements:
• a duly accomplished application form;
• one original and one photocopy copy of the official transcript of records (for undergraduate and graduate degrees);
• certificate of General Weighted Average (GWA);
• photocopy of Degree Diploma/s or equivalent document as proof of completion of degree requirements;
• recommendations from two (2) former professors or experts in the field in which the student is applying for;
• four (4) 35 x 45 mm pictures;
• curriculum vitae;
• one original and one photocopy of PSA/NSO birth certificate (and marriage certificate, if applicable);
• for a foreign student applicant, one certified true copy of the official passport with the certification undertaken by the applicant's embassy;
• payment of PHP 1000.00 application fee for resident applicants or USD 25.00 for foreign non-resident applicants; and
• other special admission requirements that may be imposed by the University or the UPCA IGP.
University Admission Requirements
Once accepted into the program, the applicant shall further submit the following requirements for university-level admissions:
• Certificate of Honorable Dismissal from the applicant's latest previously-attended academic institution, if not a graduate from the University of the Philippines;
• Duly accomplished Student Directory Form (with photo);
• Duly accomplished Program of Study affixed with signature and published in non-editable format (pdf); and
• Certificate of compliance with the Pre-enrollment Health Assessment (PEHA) from the UP Diliman Health Service, upon issuance of College Admission Slip (CAS).

All authentication required of submitted documents will be done by the UP Diliman Office of the University Registrar (OUR).
Course Specific Requirements
The additional requirement for admission into the MAAS program are:
• Bachelor's degree from a recognized institution of higher learning; and
• A two-page maximum handwritten essay expressing the reason/s for the interest in the MAAS program including how the applicant foresees to incorporate Architecture into future work prospects.
Program of Study – Schematic Diagram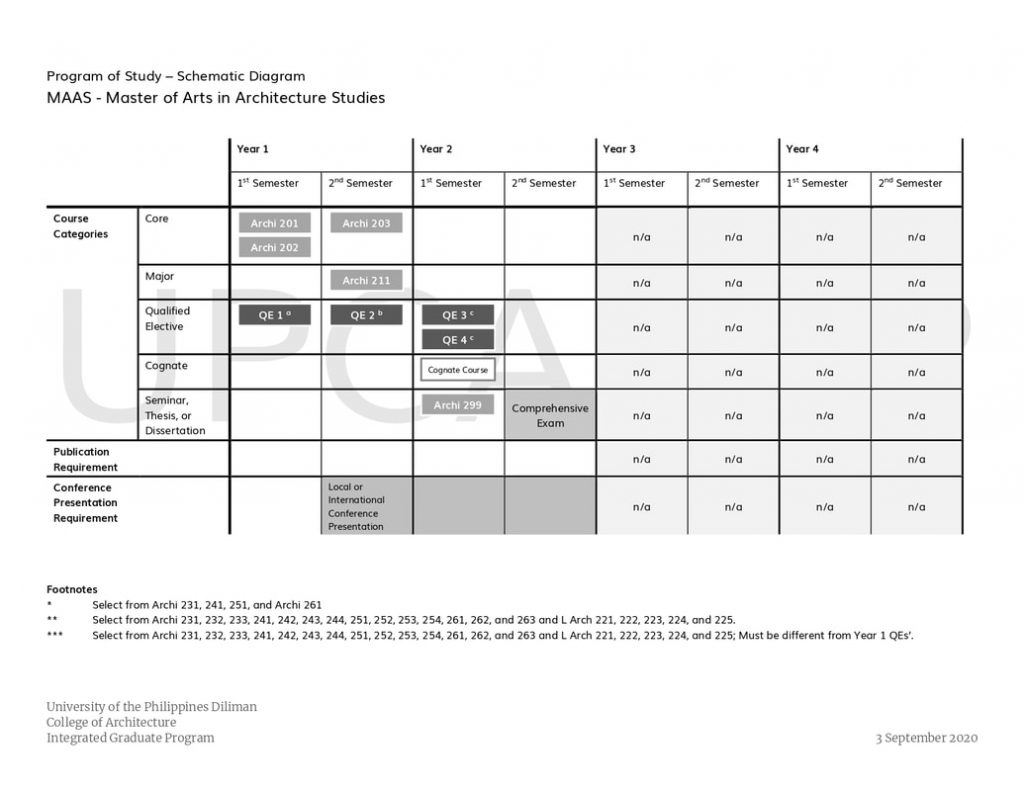 INTERESTED?
SEND US YOUR APPLICATION!