Doctor of Philosophy in the Designed and Built Environment (PhDDBE)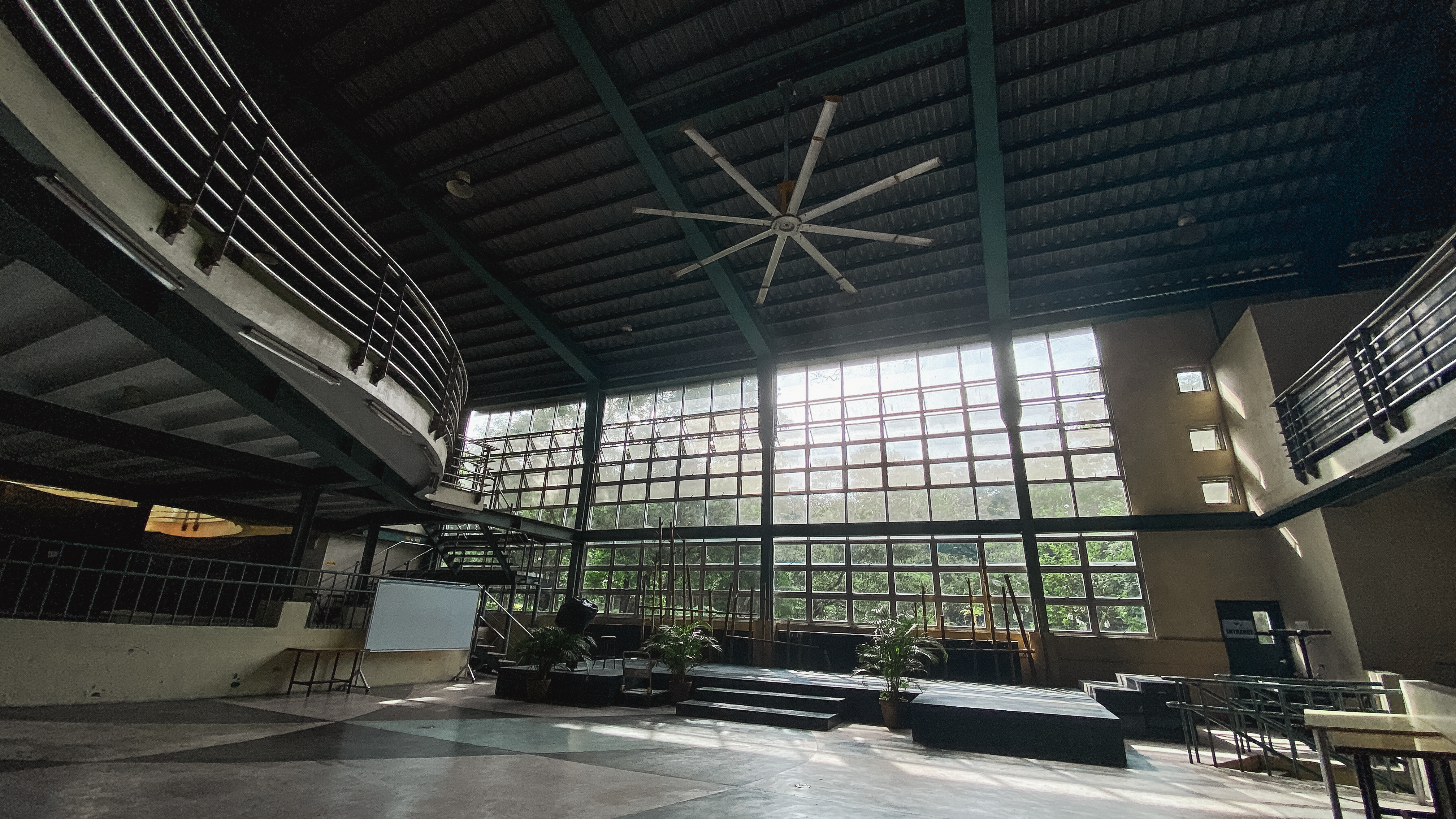 The PhD program targets the "designed and built environment" field which is rich with overlapping concerns and issues. These issues may be addressed through one field of interest but with the full awareness of the connectivity of one field with many. The value of the PhDDBE is that it provides a venue for inter-disciplinal approaches to contemporary problems and issues.
Built environment deals with the hard impacts of built form with people, the earth and its resources, which covers issues aligned with the environmental sciences, economics, business, law, social development, and even labor. With these avenues of exploration and inquiry, the PhDDBE enriches the scope and quality of knowledge-creation and creates a ripple-effect in other disciplines connected to or through architecture.
Curriculum Overview
The total number of courses and Total number of units may be reduced to a minimum of 9 and 39, respectively, depending on the Master's degree of the student, subject to the approval of the Graduate Committee.

Program Tracks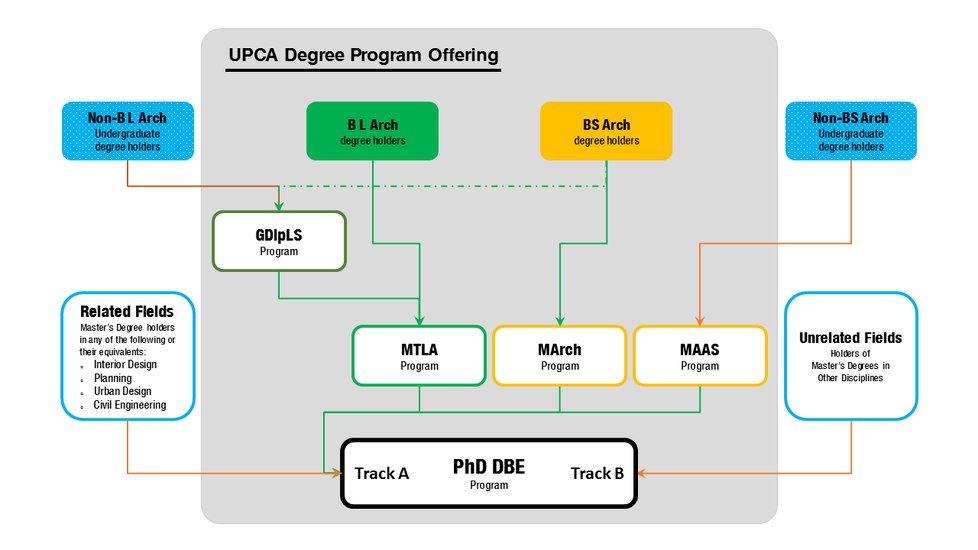 Track A
Applicants from Related Fields – Architecture, Landscape Architecture, Interior Design, Urban and Regional Planning, and qualified Engineering Disciplines
Track B
Applicants from fields other than those qualified as related.
Eligibility and Admission Requirements
Holders of any Master's Degree may be admitted to the Doctor of Philosophy in the Designed and Built Environment. Applicants must satisfy the requirements set by the University for admission. Additional requirements may be prescribed by the UPCA. Applicants are encouraged to go on a full time program.
General Requirements
The minimum requirements for admission into the UPCA IGP are the following:
• high intellectual capacity;
• language proficiency; and
• submission/satisfaction of other program specific requirements.
Proof of English and/or Filipino proficiency shall be required of students whose native language is not English or Filipino, except those who graduated from institutions where the medium of instruction is English or Filipino. For English proficiency, a score of at least 500 in the paper-based, or at least 173 in the computer-based, or at least 61 in the internet-based (iBT) forms of the Test of English as a Foreign Language (TOEFL) or at least a score of 5.5 in the International English Language Testing System (IELTS) or a certification from a duly authorized unit of the University shall be required.
Foreign student applicants shall conform to other requirements for study in the Philippines based on University rules.
College-level Requirements
Each applicant shall further submit the following college-level requirements:
• a duly accomplished application form;
• one original and one photocopy copy of the official transcript of records (for undergraduate and graduate degrees);
• certificate of General Weighted Average (GWA);
• photocopy of Degree Diploma/s or equivalent document as proof of completion of degree requirements;
• recommendations from two (2) former professors or experts in the field in which the student is applying for;
• four (4) 35 x 45 mm pictures;
• curriculum vitae;
• one original and one photocopy of PSA/NSO birth certificate (and marriage certificate, if applicable);
• for a foreign student applicant, one certified true copy of the official passport with the certification undertaken by the applicant's embassy;
• payment of PHP 1000.00 application fee for resident applicants or USD 25.00 for foreign non-resident applicants; and
• other special admission requirements that may be imposed by the University or the UPCA IGP.
University Admission Requirements
Once accepted into the program, the applicant shall further submit the following requirements for university-level admissions:
• Certificate of Honorable Dismissal from the applicant's latest previously-attended academic institution, if not a graduate from the University of the Philippines;
• Duly accomplished Student Directory Form (with photo);
• Duly accomplished Program of Study affixed with signature and published in non-editable format (pdf); and
• Certificate of compliance with the Pre-enrollment Health Assessment (PEHA) from the UP Diliman Health Service, upon issuance of College Admission Slip (CAS).

All authentication required of submitted documents will be done by the UP Diliman Office of the University Registrar (OUR).
Course Specific Requirements
The program specific requirements for admission into the PhDDBE are:
• Master's degree from a recognized institution of higher learning;
• a handwritten essay on two (2) research interests and their research plans (one page per research interest and research plan).
Program of Study – Schematic Diagram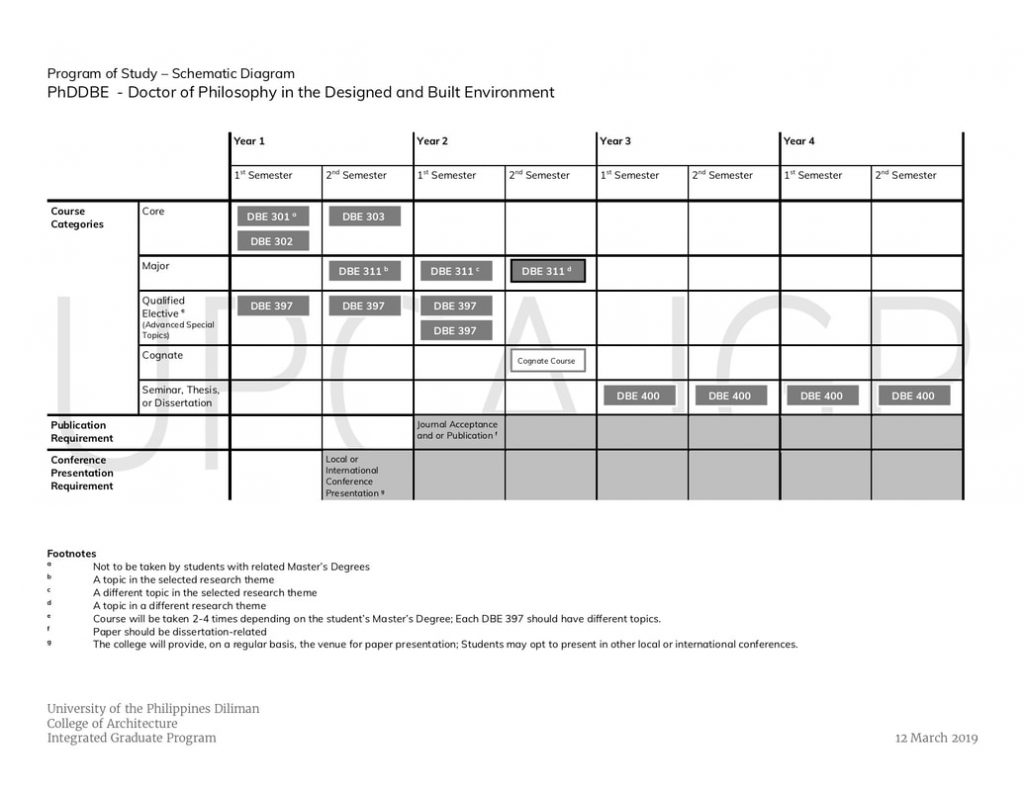 INTERESTED?
SEND US YOUR APPLICATION!